At VCU, we train Registered Nurses to administer anesthesia across a variety of fast-changing healthcare environments. As a Certified Registered Nurse Anesthetist, professionals must be prepared to deal swiftly with changes in technology and healthcare, our aging and diverse population, and always have a focus on improving quality and keeping patients safe.
Nurse Anesthesiology Faculty Associates (NAFA)
For over 40 years, NAFA has been the continuing education conference of choice for CRNAs around the country. Led by the VCU Department of Nurse Anesthesia, NAFA offers nationally known speakers, exciting travel destinations, and delivers the highest Quality, Value, and Service available to anesthesia providers. We also now offer online learning through NAFA Now.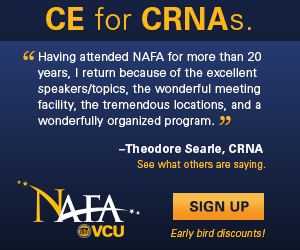 Learn the stories of VCU Nurse Anesthesia.
The Department of Nurse Anesthesia at VCU is a recognized leader within the Nurse Anesthesia specialty. We have pioneered the development of a national patient safety curriculum, utilizing state-of-the-art simulation technology as well as other cutting-edge initiatives to improve anesthesia care. We created MakingPatientSafetyReal.vcu.edu as a place to share the stories of our students, alumni and faculty.
---
Apr 30, 2019

Over 150 alumni, faculty, staff and students celebrated the Department of Nurse Anesthesia's 50th Anniversary on Friday, April 5, 2019.

Oct 19, 2018

Congratulations to VCU alumnus, Tim Newell, DNAP, CRNA ('14/'15) who is the newly elected Director of VANA District 5!
Facebook