State-of-the-art nurse anesthesia training.
The Department of Nurse Anesthesia provides a unique state-of-the-art teaching and learning experience. Our Center for Research in Human Simulation has been training health care professionals since 1999 and is utilized by students throughout the graduate curriculum to support the achievement of course and program learning objectives.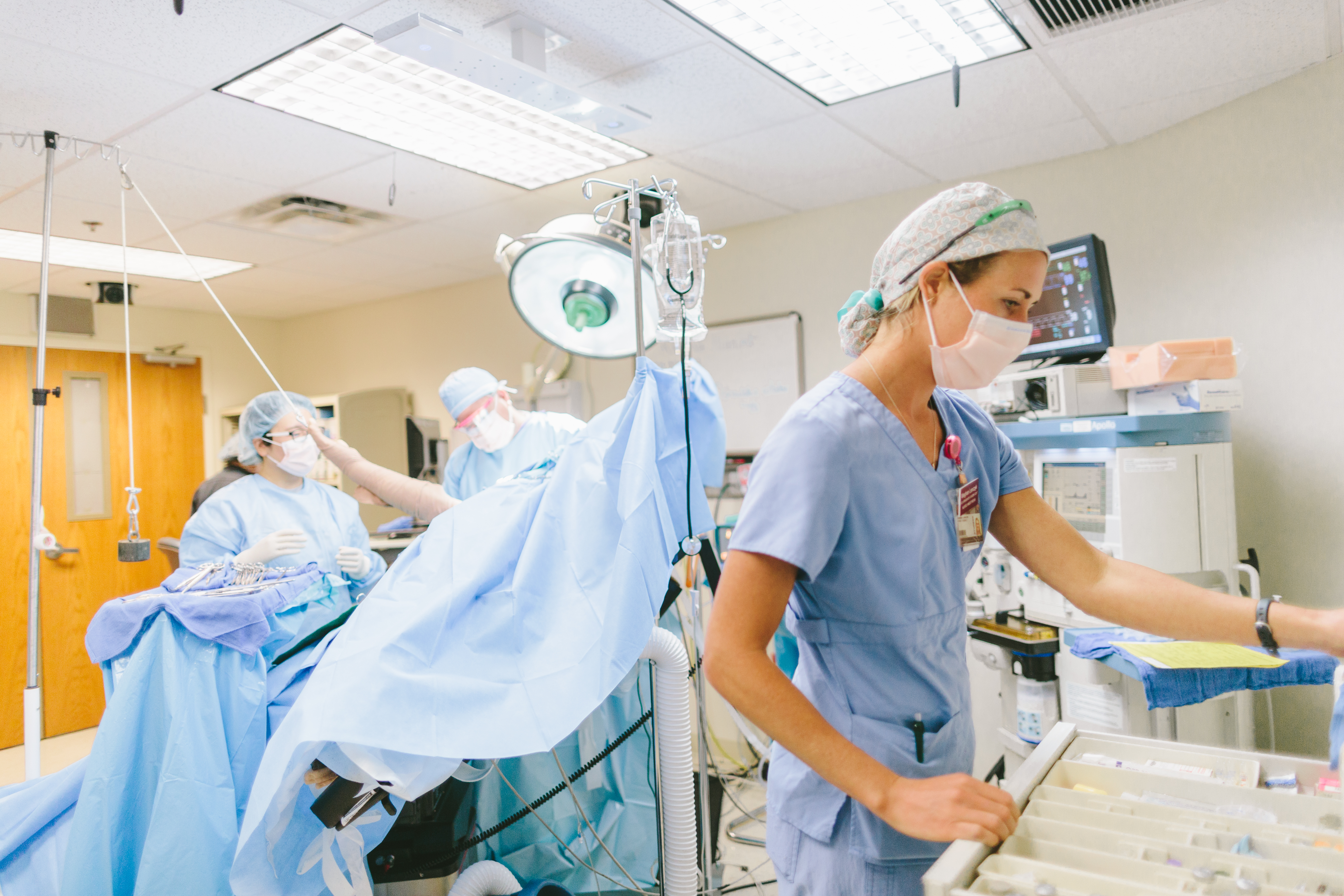 The centerpiece of our innovative program is five full-body human patient simulators (HPS) that mimic the anatomy, physiology, and responses to eatment similar to that of a human patient. The simulators can be set up for use in the operating room, critical care, or emergency medical settings and provide the unique opportunity for graduate students and other learners to deliver direct patient care void of the risk of injury to a real patient.
The simulators share common human characteristics including the measurement and display of vital signs, audible breath sounds, and palpable peripheral pulses, and include the ability of the simulator to speak, cough, tear, sweat, and have seizures. During simulations, the Department's clinical staff play the role of surgeons and physicians and play to the many unique personalities found in an operating environment.
Simulation allows for the practice of other high-risk interventions such as the induction of anesthesia which includes the administration of paralyzing agents, hypnotic medications that render a patient unconscious, and potent narcotics without posing any risk of harm to a real patient. Graduate students are often comforted to have the opportunity to talk through these procedures and go at their own pace to gain a deep understanding of important underlying principles that guide safe practice.
Practice in a simulator before you see it in real life.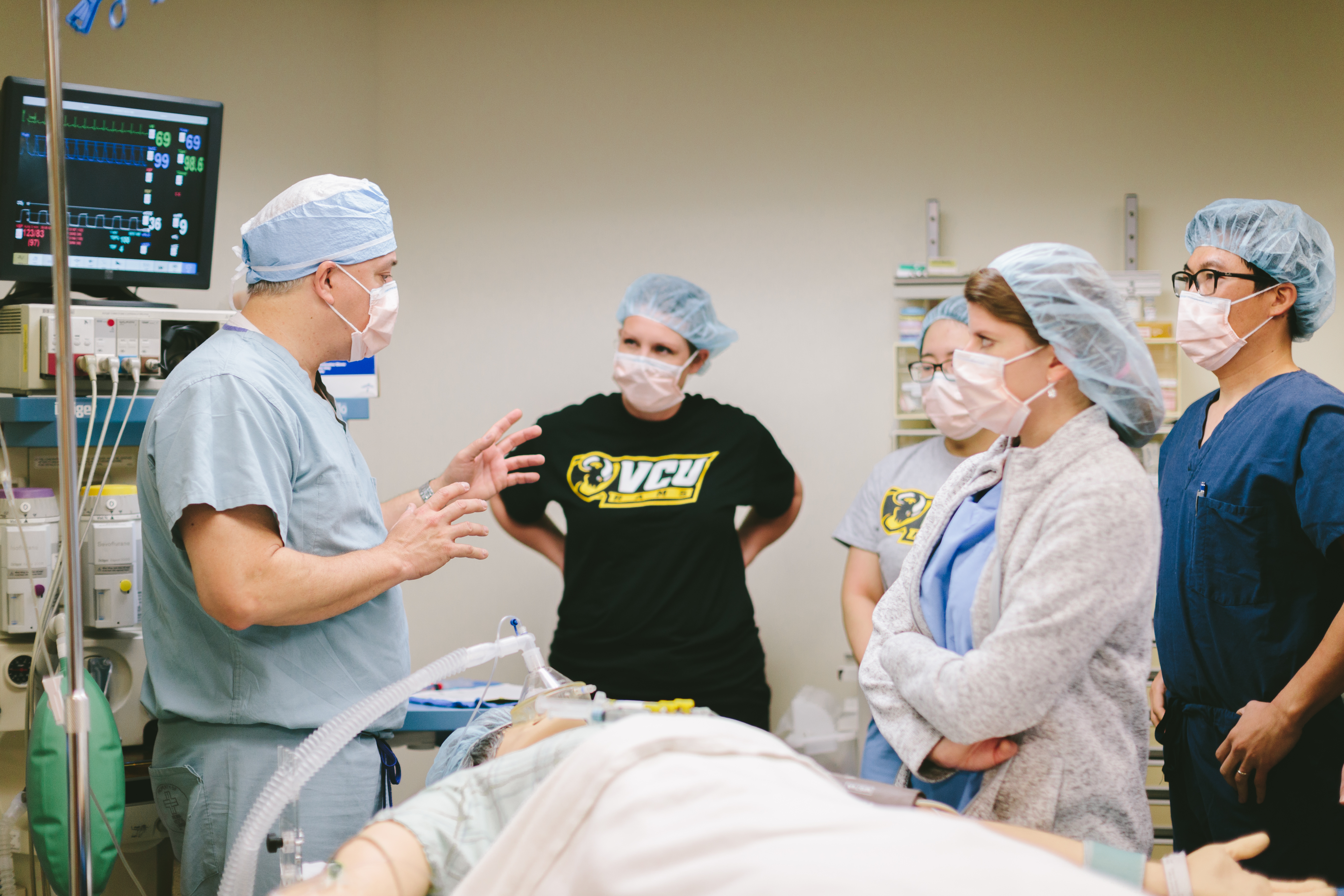 Though the simulator teaches students standard anesthesia administration, scenarios also provide for hands-on training of critical anesthesia events and crises that rarely occur in clinical practice. Scenarios vary, and can include an intraoperative myocardial infarction, malignant hyperthermia, acute hemorrhage, hypoxia, unstable cardiac rhythms, and the like. Human and environmental factors are also accounted for, such a surprise electricity outage or an ill-tempered surgeon.
Patients deserve providers who have been trained to manage unexpected events in the operating room, and a high-fidelity simulated environment allows students to learn critical thinking skills necessary to quickly recognize and successfully treat such complex issues in a timely and effective manner.
Audio-visual Recording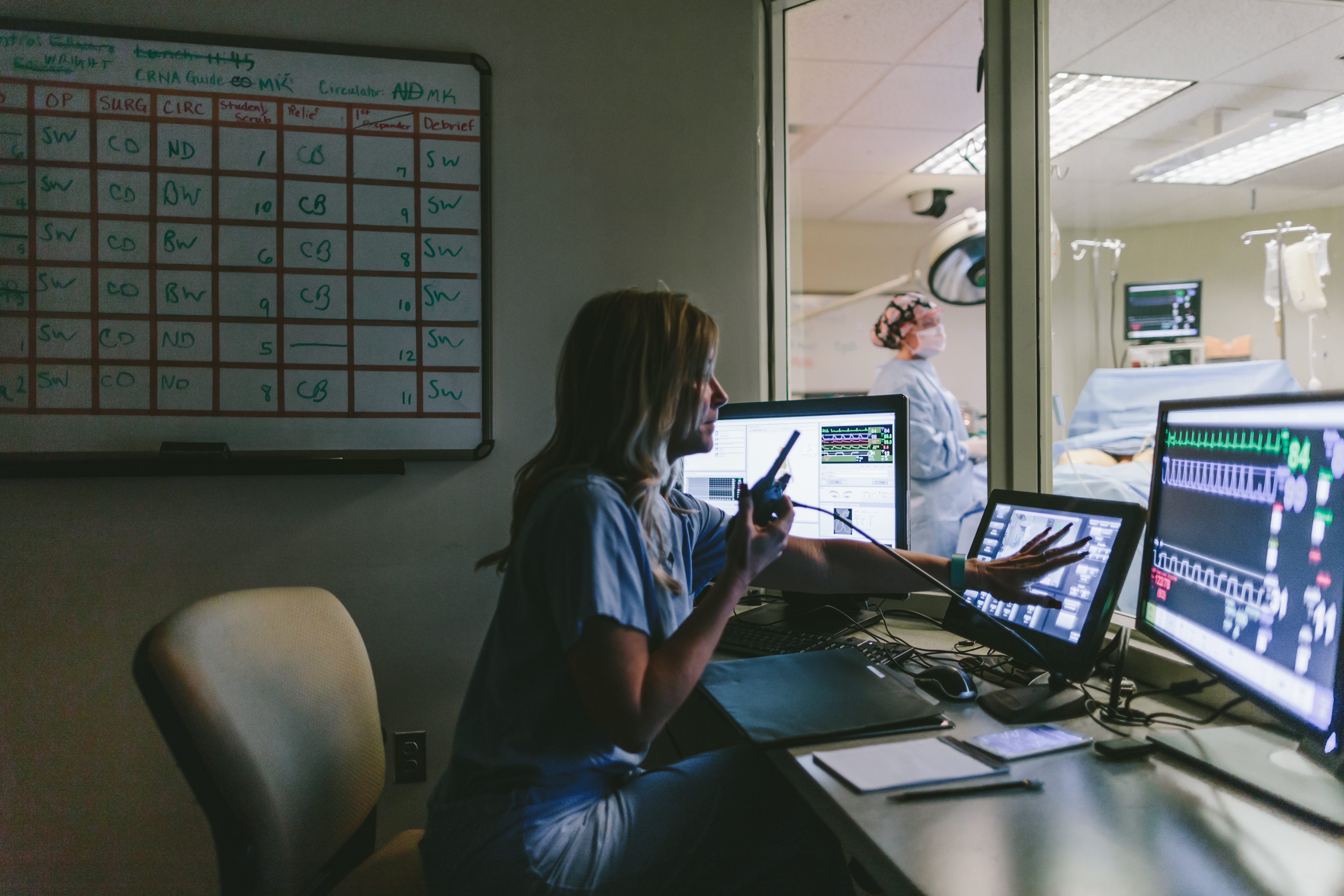 High-definition audiovisual equipment enables faculty to record training activities and provide detailed and subsequent debriefings designed to solidify learning. The Simulation Center houses a classroom adjacent to its high-fidelity operating room suites as well as an on-site conference room with closed circuit television and a projection screen that offers real-time viewing of activities in the lab. This arrangement maximizes the impact of the Center by allowing staff to observe participants.
Additional simulation features
In addition to human-patient simulators, the Center boasts a wide array of simulation equipment for the purposes of training graduate students on complex and invasive procedures such as the decompression of the chest in the event of a tension pneumothorax, the use of ultrasound technology, and placement of invasive airway devices, central lines, arterial lines, and spinals and epidurals.