Dreaming Big: Amber Coleman '18 Building a Brand Beyond the OR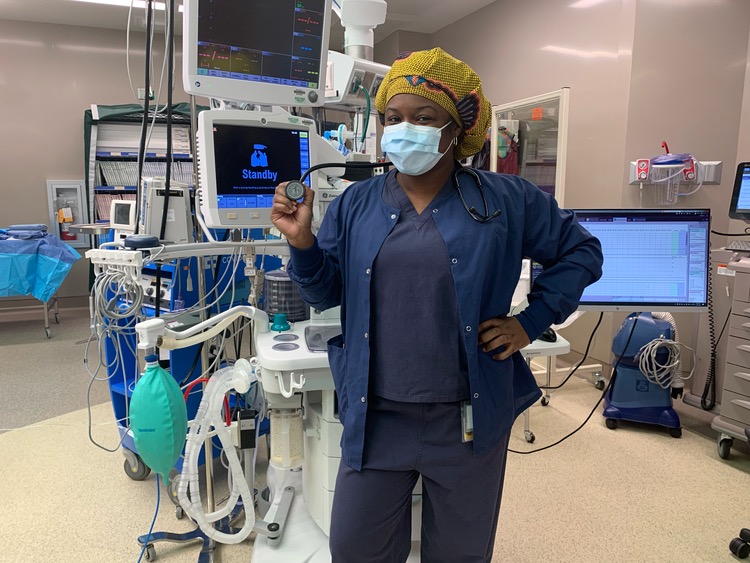 Graduate, pass the National Certification Exam, get certified, practice as a CRNA.
It's a path to success and personal and professional advancement for many VCU Nurse Anesthesia graduates. Yet Amber Coleman, a 2018 alumna, simply had a different path in mind.
Since gaining certification ("That test is expensive, so I was only doing it once"), she's practiced as a CRNA at Riverside Regional Medical Center in Newport News. And while passionate about anesthesia and building her specialty, she also views it as a stepping stone: to mentoring others in the field, to writing books, to building businesses, and to showing her two currently young children how to build a solid foundation in their own lives.
Coleman recently self-published a children's book, Amber Dreams of Anesthesia. The story mirrors her own journey: a young girl receives a birthday gift, the game "Operation," and becomes fascinated with the human body. The cartoon Amber begins to explore healthcare, looking up "people who help you feel comfy during surgery" on a tablet and coming across the anesthesia specialty (in real life, kid Amber was looking through a set of old encyclopedias when she stumbled across the word "anesthesiologist," and she never turned back).

In the book, the young Amber falls asleep and into a deep dream about becoming a nurse anesthetist. Readers pick up a simple education on the path to becoming a CRNA and many of the ways in which they provide care – such as for obstetrics, or in general surgery.
"This book is about planting a seed in kids early," Coleman says. "They don't have to do to anesthesia or even go into healthcare. It's just about having a dream, coming up with a plan, and doing it."
Coleman is clear that while the book is not specifically aimed at young Black and Brown readers, but rather all children, she hopes it resonates with those in communities of color, which are underrepresented in healthcare jobs. "Representation matters, and I do have a responsibility as a woman of color to help those who look like me blaze a trail in the field," she said.
Coleman paused her career as an ICU nurse in 2016 to pursue her nurse anesthesia education at VCU. She and her husband and then two very young children relocated from Hampton to Richmond. He commuted to work in Newport News. They had no family in the area to support them at the time, "but we made it work." The VCU experience, Coleman says, changed her life, and gave her the foundation for a stable and rewarding career path.
Coleman is also one of 10 alumni heading up the Addie Pontiflet Scholarship at VCU Nurse Anesthesia. Pontiflet, who died in 2007, was an assistant professor of nurse anesthesia at VCU. The annual award will be given to students with preference in those who have demonstrated interest in equality, diversity or social justice for the African American community through community activities, social groups, student clubs or organizations. The scholarship also asks that students show active membership and involvement in professional nurse anesthesia-oriented organizations and activities that focus on racial and ethnic diversity, equity, and inclusion, and serve on the VCU Nurse Anesthesia's DEI committee.
"The candidate has to be passionate," Coleman says. "I don't care if you mentor or if you go into education, you have to be willing to give back."
Beyond the book, she's partnered with her brother to start a trucking company. She's writing a second children's book on financial literacy. And she and her husband dabble in real estate investing, too.
And most importantly — balancing the work of a CRNA, part-time author, entrepreneur, and investor — Coleman is sure to make time for their two children, aged 9 (girl) and 7 (boy).
How does she handle it all? "You have to balance and be passionate about it. Find your passion, be positive, make a plan, and remain persistent," she says. "With these steps you are guaranteed to succeed and along the way elevate others."
"Like I tell our kids: 'Dream big.' "
For more on Amber or to purchase her book, visit her website.
Visit VCU Nurse Anesthesia's Giving page and be sure to select "Addie Pontiflet Scholarship" in the drop-down menu.