Each year, the MCV Foundation Board of Trustees honors people who have made significant contributions to the world-class patient care, research and education that VCU Health delivers right here in our community.
The generosity, leadership, vision and impact this year's award recipients have embodied are worthy of great praise, attention and admiration.
"The comprehensive academic health center we have here in Richmond, serving Central Virginia and influencing healthcare around the world, is powerful and essential," said Margaret Ann Bollmeier, president of the MCV Foundation. "These engaged, committed, generous and visionary awards recipients have played critical roles in helping VCU Health advance lifesaving care, preeminent research and transformational education. We can't thank them enough for what they have given directly, and for the influence they have had on inspiring others to give."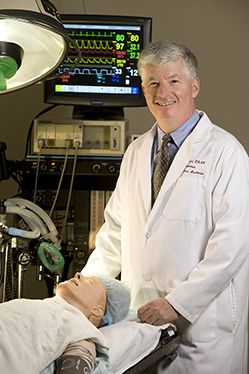 Robert Irby Award
Michael Fallacaro, CRNA, D.N.S., FAAN, who served as professor and chairman of the Department of Nurse Anesthesia in the VCU College of Health Professions for 20 years, received the Robert Irby Award.
For much of Dr. Fallacaro's time leading the department, it was the top-ranked program of its kind in the nation.
"Dr. Fallacaro's service to the profession of nurse anesthesia is second to none," said Chuck Biddle, Ph.D., professor and director of research in the Department of Nurse Anesthesia. "His reputation as a professional of high integrity and as a clinician, scholar and leader is perhaps matched by some, but exceeded by no one. My view comes from one who 'knows' all of the principal players in a field that I have been a part of for twenty years."
In 2011, Dr. Fallacaro established the Fallacaro Patient Safety Endowment for the Department of Nurse Anesthesia, which was the first endowment established for the department. Shortly thereafter, every faculty member in the department also established an endowment. Since Dr. Fallacaro set his example of philanthropic support, there have been an additional 24 endowments created for the department.
Established in memory of Robert Irby, M.D., an MCV rheumatologist who was devoted to securing financial support for the MCV Campus, this award is presented to a faculty member who has assisted with major fundraising efforts.
Michael B. Dowdy Award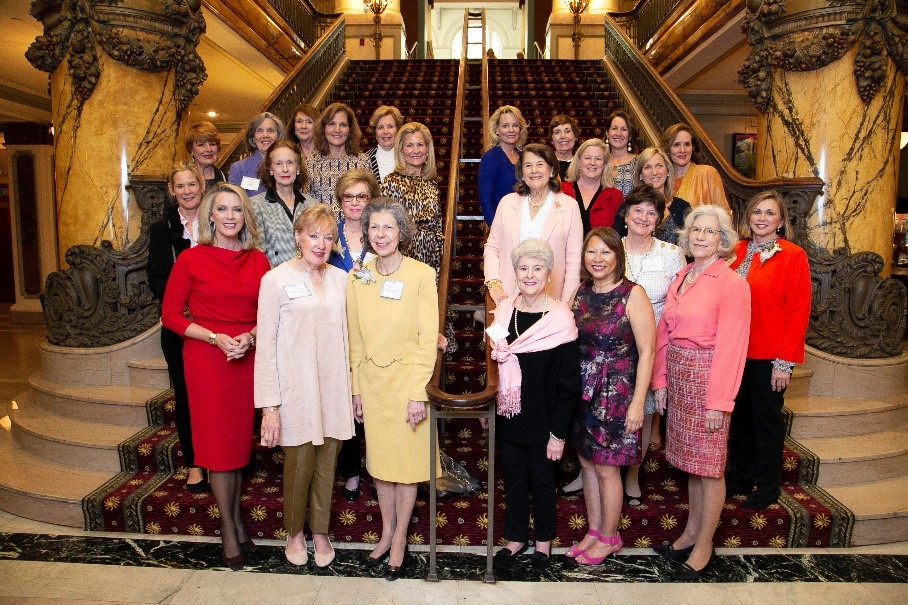 Adrienne Maxwell, one of VCU Massey Cancer Center's most tireless volunteers, received the Mickey B. Dowdy Award.
For almost 30 years, Adrienne has dedicated her time, expertise, leadership and generosity to the cancer center. A natural leader and passionate advocate, she helped found Massey Club, Massey's leadership annual giving society, which now brings in nearly $2 million dollars in unrestricted funds to support the center's greatest needs.
Concerned about the lack of awareness in the Richmond community regarding research being conducted at Massey and a desire to raise money for women's cancers, Adrienne encouraged her friends to join her and create a fundraising event. With her guidance, this committee of devoted volunteers received support from local businesses and organizations to produce the first Women & Wellness Signature Luncheon 25 years ago. Adrienne continues to be instrumental in the success of this event, this year gathering former event chairs to form the Legacy Committee, which helped raise record-breaking funds. Her continued support toward the research of women's health has been the reason this annual event has raised more than $5.5 million.
"Adrienne Maxwell is one of those indispensable volunteers that Massey truly cherishes," said Martha Quinn, executive director of development at Massey. "I know I speak for the entire Massey development office and Massey leadership when I say that we are indeed fortunate to continue to merit her generosity and expertise year after year."
Established in honor of Mickey Dowdy, who served as president of the MCV Foundation from 1993 to 2006, this award recognizes a volunteer who has played a lead role fundraising for the MCV Campus.
Eugene P. Trani Award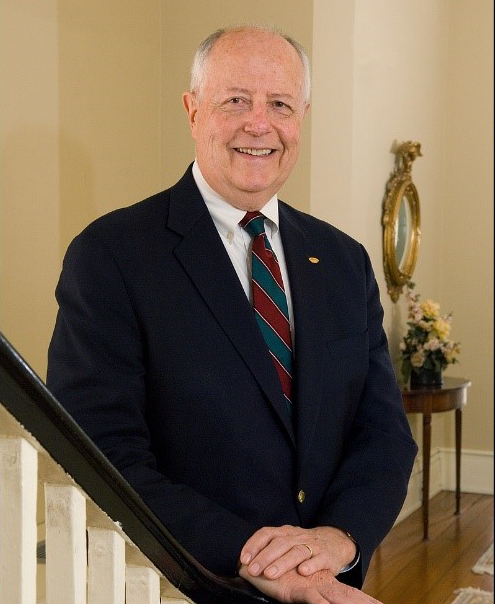 Roger Boevé, a leader, donor and friend of the MCV Campus for many years, received the Eugene P. Trani Award.
Roger served 12 years on the MCV Foundation Board of Trustees and is now a member of the foundation's Leadership Council. In his time on the board, he chaired the Development Committee, served on the host committee for the inaugural Discovery Series RVA, and opened his home along with his wife Anne so their friends and neighbors could meet and ask questions of MCV Campus faculty and leadership.
Roger also serves on the Massey Advisory Board and as an external advisory board member for VCU's Weil Institute of Emergency and Critical Care Research. Most recently, Roger helped establish and now serves as chair of the Pauley Heart Center Advisory Board. An advisory board had been discussed for many years, and Roger readily agreed to help faculty launch the board and personally contacted most of its 11 members to ask them for their service. He enthusiastically took the initiative and the leadership role required to make the longtime dream a reality.
In addition to serving as ambassadors and leaders on the MCV Campus, Roger and Anne have generously supported the Massey Cancer Center and Pauley Heart Center as leadership donors. They've shown strong interest in research, supporting studies on leukemia and the Pauley Pilot Grants funds at the MCV Foundation.
Established in honor of Eugene P. Trani, Ph.D., who served as president of VCU from 1990 to 2009, this award recognizes exceptional dedication and support of the MCV Campus.
Jerome F. Strauss III Award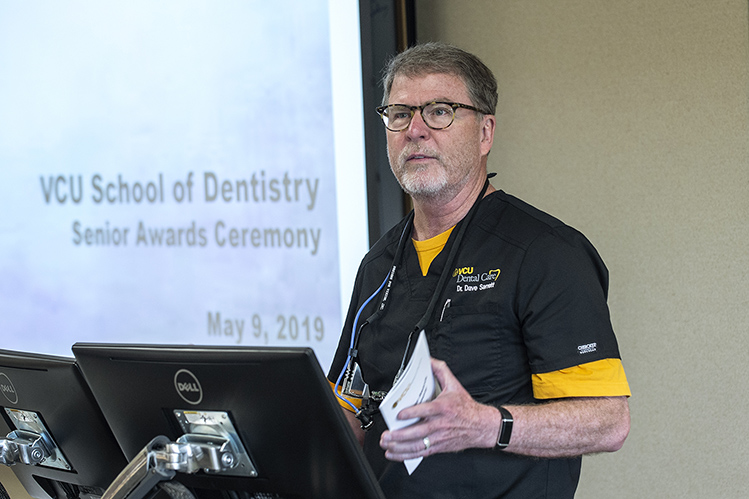 David Sarrett, D.M.D., longtime faculty member and dean of the VCU School of Dentistry, received the Jerome F. Strauss III Award.
He has been an academic leader, dental community leader and faculty advocate throughout his more than 25 years on campus. In addition to acting as a collaborative partner in fundraising efforts on behalf of the School of Dentistry, Dr. Sarrett has given and pledged his own resources to ensure programs, research and scholarship will continue to thrive at the school.
In 2013, Dr. Sarrett and his wife Beth established an endowed scholarship at the school to encourage dental students to enter academic dentistry and/or research in the dental field. Their goal was to alleviate student debt burden to encourage young dentists to enter the field for which they might have a passion, rather than choosing paths based on financial necessity. In addition, Dr. Sarrett further established himself as a philanthropic leader at the school and across campus when he made a $100,000 commitment to the new Adult Outpatient Pavilion in which the dental clinic enterprise will be housed. "As in so many other areas of his life and career, Dr. Sarrett stepped up first," said Gloria Callihan, associate dean for development at the school.
In 2018, Dr. Sarrett and Beth cemented their legacy and vision for the school's future when they shared their intention to endow a chair in general practice through a $1 million estate gift.
Established in honor of Jerry Strauss, M.D., Ph.D., former dean of the School of Medicine, this award is presented to a VCU administrator, faculty or staff member who has demonstrated extraordinary service and stewardship to MCV Campus alumni, donors or other members of the community to support and advance the mission of the MCV Foundation.
If you too are interested in supporting and being a part of the lifesaving care, research and education that happen on the MCV Campus every day, visit our giving page to learn about the various ways to make contributions across campus.