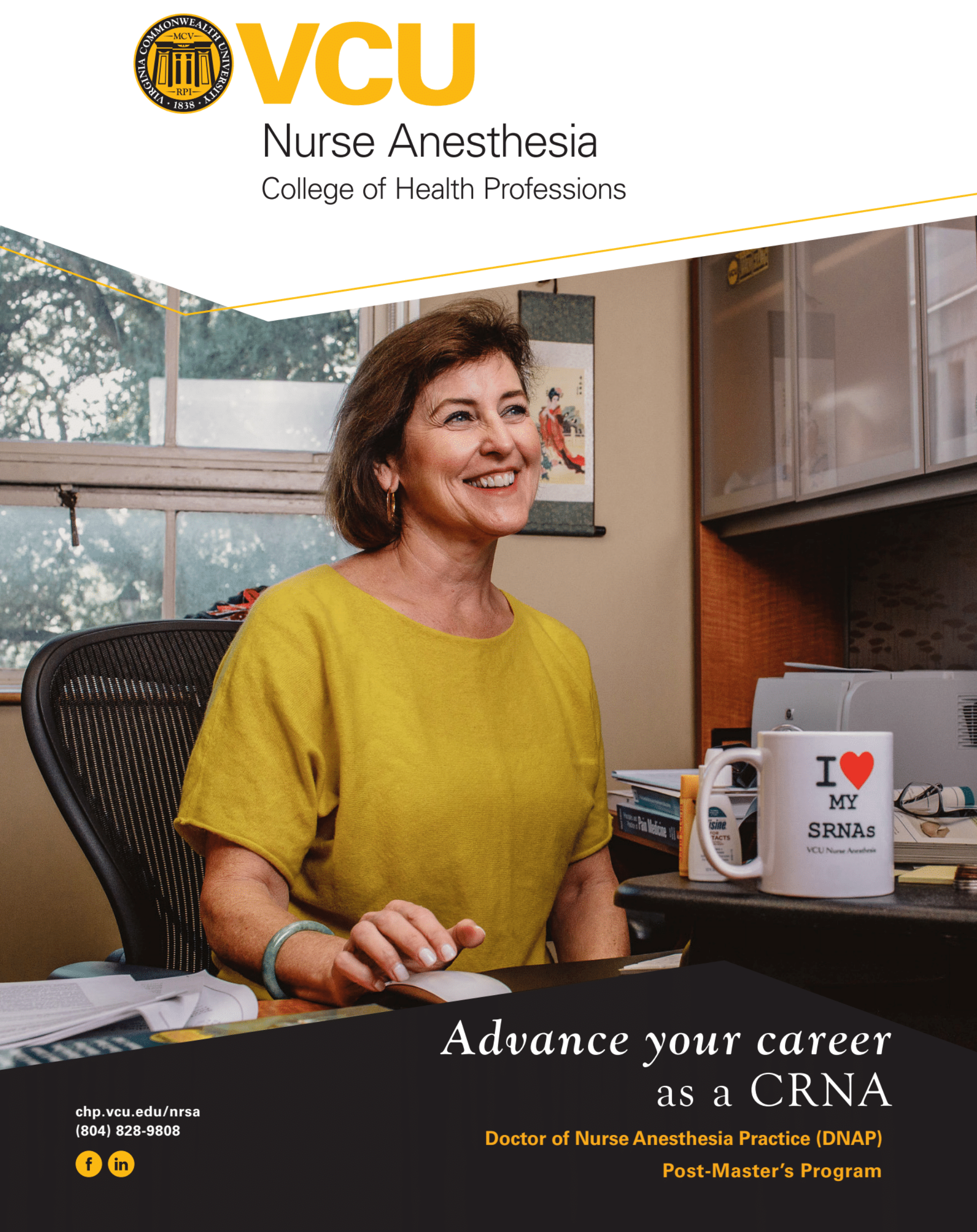 Earn your DNAP. Take between one and three years to finish.
Our post-master's DNAP program is designed for the full-time working CRNA, with one- to three-year completion options. This practice-oriented doctoral program focuses specifically on issues related to nurse anesthesia practice and builds upon applicants' previous education and experiences as CRNAs.
How will a DNAP degree enhance my career?
The DNAP program prepares CRNAs to assume leadership positions in education, management, and clinical practice. Our curriculum concentrates on patient safety and human factors, quality assessment and improvement, health care systems and organizations, leadership, evidence-based practices, and adult education.
Doctoral project
The post-master's DNAP program culminates in the successful completion of the doctoral project, which is intended to demonstrate integration and synthesis of concepts learned throughout the program and practice experience. With the guidance of a two-person faculty advisory committee, doctoral students develop a project on a topic of interest relevant to nurse anesthesia practice, education, or leadership. The focus of the doctoral project is the use of best evidence to improve practice and patient outcomes. The doctoral project process is directed toward the acquisition of skills related to scholarship and includes articulation of a practice issue, a well-focused and comprehensive literature review, a description of the methodology designed to address the practice issue, and a discussion that synthesizes the outcomes of the project activities and the practice problem. Students disseminate their work and develop evaluation strategies to gather feedback on the project.
---
Doctoral project case study: Drug screening anesthesia patients
With nearly eight years' experience as a practicing CRNA, post-master's candidate Gabriel Restrepo noticed a cohort of his patient population coming in for elective surgical procedures had illicit substances in their system — everything from marijuana and cocaine to heroin and other opioids.
"During my practice, I've been involved in two situations where patients who were using illicit substances almost died," he says.
Every hospital has varying standards of care, policies, and procedures about testing patients for illicit-drug use prior to surgery, he explains. This issue gets intensified as there is also great unevenness among anesthesia team providers around testing for illegal substances — some do, some do not. "This creates conflict with other surgical specialties and confusion in general," he says.
Gabriel notes the main bodies representing the field, such as the American Association of Nurse Anesthetists, the Anesthesia Patient Safety Foundation and the American Society of Anesthesiologists, do not have standards of care or formal policies-procedures for drug testing prior to surgery. The groups provide only practice recommendations that can be open for interpretation by clinicians in numerous ways based on diverse clinical situations. "My doctoral project is based on this problem," he says. "The lack of a consistent standard of care is very troubling to me."
He hopes to outline policies to identify and treat patients who are abusing substances, which of course interact with anesthesia medications and impact critical organs like the heart and lungs. His goal is to create a new standard of care.
"Everything in anesthesia is mathematic. We have algorithms to identify, treat, and implement for every possible clinical situation. But when it comes to drug testing, we have created an inconsistent clinical model which diverts from the rigorous algorithms commonly used in practice," he says. "The lack of knowledge of illicit-drug use creates an environment in which the anesthetist can't properly balance the anesthesia technique due to the unknown effects of illicit-drug metabolites in the patient's body, creating an unsafe clinical situation were moderate to critical intraoperative-postoperative complications can occur."
Gabriel's doctoral project, The Utility of the Urine Drug Screen in the Prevention of Intra-Operative and Post-Operative Anesthetic Complications, will address the issue by validating the usefulness of a $25 test versus the potential for damages that could run into the thousands of dollars more in claims. "These are all cases that can be prevented," he says.